The next meeting of the Planning and Oversight Committee (POC) is scheduled for Wednesday, October 6th at 6 pm. Due to the COVID-19 pandemic, all meetings will be held over the Zoom platform until further notice. 
Oakland Fund for Children and Youth develops a strategic investment plan every three years with the input of Oakland youth, parents and service providers. 
For updates about OFCY's strategic investment planning process for the FY 2022 to 2025 funding cycle, please visit our Strategic Planning page.
Click here for a draft of strategies for 2022-2025. These strategies were presented to the OFCY Planning and Oversight Committee (POC) in June and July 2021, and will be finalized into a full strategic investment plan to be brought to the POC in September 2021.
Click the image below to read OFCY's Community Needs Assessment and Racial Equity Analysis report in support of the 2022-2025 plan. This report informs strategic planning for our next funding cycle and helps OFCY decide how to invest Kids First! Funding.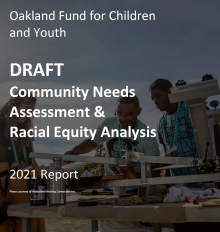 InPlay: Promote your program and fill spots in your services:
InPlay is a non-profit partner with the City of Oakland, OUSD and the Oakland Summer Learning Network connecting families with out-of-school programs. Parents search InPlay's free website to access hundreds of local and affordable after-school and summer programs. Visit the site for more information and to get listed: Oakland.InPlay.org.
The independent evaluation report for FY 2019-2020 was approved by the Planning and Oversight Committee at their meeting in November 2020. The report will be presented to the Oakland City Council for their review and adoption in early 2021. 
Click the image below to go to the evaluation report page.
Key Highlights from the 2019-2020 Evaluation
 
OFCY programs served approximately one out of five Oakland children and youth last year.
OFCY programs have an equity focus.
The POC has positions open on the 17-member commission. This important Committee oversees the allocation of funding, strategic planning, and evaluation of programs. Youth members are able to earn a small scholarship for their participation. To find out more information about the POC and how to apply, please click here. 
Current Vacancies (as of August 20, 2021):
Adult POC Vacancies:
District 1 Adult
District 6 Adult
Youth POC Vacancies:
At Large Youth
District 1 Youth
District 4 Youth
District 5 Youth
District 6 Youth
District 7 Youth