OFCY Releases 2019-2022 Request for Proposals
On December 7, 2018, the Oakland Fund for Children and Youth (OFCY) released the 2019-2022 Request for Proposals (RFP) to solicit program proposals from non-profit organizations and public agencies to provide services to children and youth in Oakland, California. Proposals are due on January 25, 2019 through the Cityspan online RFP system.  
For more information and any updates, please go to the Request for Proposals web page. Also sign up for the OFCY mailing list on the left side of this website for all future announcements and updates. 
Please click on the image below to download the 2019-2022 Request for Proposals.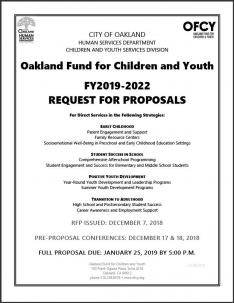 OFCY Strategic Investment Plan for 2019-2022
The OFCY 2019-2022 Strategic Investment Plan was developed with input from youth, parents, community members, partners and service providers. The plan was adopted by the Oakland City Council on October 30, 2018 and serves as the basis for the 2019-2022 RFP. For more information about the Strategic Plan including appendices, please click here. 
POC Meetings
The next regular meeting is scheduled for Wednesday, February 6, 2019 from 6:00 to 9:00pm at Oakland City Hall, 1 Frank Ogawa Plaza, 2nd floor, Hearing Room 4, Oakland, CA 94612. 
2018-2019 POC Member Recruitment
OFCY is recruiting for its 2018-2019 Planning and Oversight Committee (POC)! This important Committee decides how to allocate 3% of the City's unrestricted general fund revenues to support Oakland's children and youth. The POC is made up of 17 members appointed by the Mayor and City Council, at least 8 of whom are youth. Regular meetings are held once per month, usually at Oakland City Hall, and subcommittee meetings are held as needed.
Adults and youth interested in children and youth issues and who live in Oakland are encouraged to apply. Youth must be between 14 and 20 years of age.