The next POC meeting is scheduled for Wednesday, December 7, 2022 at 6:00 p.m. 

Vacancies: The POC has youth and adult positions open on the 17-member commission. To find out more information about the POC and how to apply, please click here.  
The Oakland Fund for Children and Youth develops a strategic investment plan every three years with the input of Oakland youth, parents, and service providers. 
Click here for the OFCY Strategic Investment Plan for 2022-2025. This updated Strategic Investment Plan was adopted by the Planning and Oversight Committee (POC) on October 27th and the Life Enrichment Committee on November 15th and was adopted by City Council for consent on December 7th.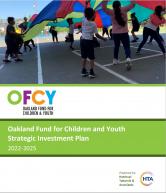 Click here to read OFCY's Community Needs Assessment and Racial Equity Analysis report in support of the 2022-2025 plan. This data-filled report provides a wide range of information on key indicators, outcomes, and disparities.